Guests arrived at the stunning villa in Gioia del Colle, eagerly anticipating a night of glamour and celebration in honor of Vincenzo Maiorano's milestone 30th birthday. The atmosphere was charged with excitement as fashion influencers, industry insiders, and close friends gathered to pay tribute to the renowned fashion creator. 
The venue itself exuded opulence, with its grand architecture and beautifully landscaped gardens. The interior of the villa was adorned with tasteful decorations, reflecting Vincenzo's impeccable sense of style. Luxurious floral arrangements in vibrant hues of red and gold adorned every corner, adding a touch of elegance to the already breathtaking surroundings. 
As the evening progressed, the sounds of laughter and merriment filled the air. Vincenzo's charismatic presence and infectious energy were undeniable, captivating everyone in
attendance. From the moment guests stepped through the doors, they were enveloped in an atmosphere of sophistication and allure. 
Throughout the night, a team of talented chefs showcased their culinary prowess, crafting a gastronomic experience that tantalized the taste buds. Each dish, meticulously prepared, showcased the finest flavors and textures, leaving a lasting impression on the discerning 
palates of the guests. From delectable vegan appetizers bursting with vibrant colors to decadent vegan desserts that delighted even the most indulgent dessert lovers, the menu was a testament to Vincenzo's commitment to excellence in all aspects of his life. 
As gifts for the guests, the birthday celebrant has thought of creating a collaboration with the board game 'Monopoly' and transforming it into a fashionable and Vincenzo Maiorano-branded version. According to everyone, it was an absolutely sensational evening that left everyone speechless, as surprises never cease with Vincenzo.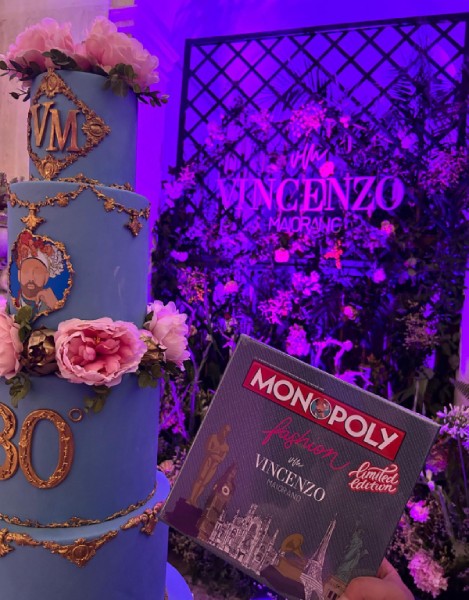 A live band set the mood with melodic tunes, creating a seamless blend of enchanting music and vibrant conversation. The dance floor beckoned guests to showcase their moves, and soon the room was filled with an electrifying energy as attendees danced the night away. 
As the event came to a close, guests departed with memorable moments etched in their minds and hearts. The 30th birthday celebration of Vincenzo Maiorano had undoubtedly been a night to remember, a true testament to his vision, creativity, and unparalleled influence in the fashion industry.
Looking ahead, the world eagerly anticipates what Vincenzo will bring forth in the next chapter of his fashion journey. With his unwavering dedication, innovative spirit, and penchant for pushing boundaries, there is no doubt that he will continue to revolutionize the industry, leaving an indelible mark on the world of fashion. 
Cheers to Vincenzo Maiorano, a fashion luminary who has proven time and again that true artistry knows no bounds. May his future endeavors be as extraordinary as this unforgettable celebration! 
Magazine: https://maioranomagazine.com 
Site: https://vincenzomaiorano.com 
Instagram: https://www.instagram.com/vincenzo_maiorano
Topics
#Birthday Celebration
#Vincenzo Maiorano