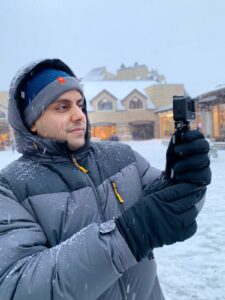 Varun Chauhan, the enigmatic fashion and advertising photographer, was born on a sultry July day in 1982 in the vibrant city of New Delhi. With a keen eye for detail and a unique approach to photography, Varun has managed to captivate audiences with his stunning imagery that captures the very essence of the brands he works with.
Known for his ability to tell a story through his lens, Varun has mastered the art of blending lighting, composition, and emotions to produce photographs that leave an indelible mark on the viewers' psyche. With an unwavering passion for his craft and an unrelenting pursuit of excellence, Varun has earned the respect and admiration of his peers in the industry.
Varun's unparalleled expertise in fashion and advertising photography has enabled him to work with an impressive array of clients, including some of the biggest names in the industry, such as Pepsico, Kiko Milano, Vodafone, LG Electronics, Hero Motocorp, and many more. With each project, Varun has managed to deliver visually compelling content that perfectly captures the spirit of the brand and its products, making him one of the most sought-after photographers in the industry.
Varun's extraordinary talent for encapsulating the soul of well-known companies has not gone unnoticed, and he has had the privilege of collaborating with an extensive roster of international male and female models, as well as prominent figures from India, such as Ustad Amjad Ali Khan, Shabana Azmi, Virat Kohli, Amy Jackson, Kiara Advani, and many others. His impressive body of work with these models and personalities has been featured in a range of advertising campaigns and editorials that have appeared in renowned publications like Vogue India, FHM India, GQ India, Men's Health, Harper's Bazaar, Marie Claire, ELLE, Cosmopolitan, and numerous billboards across the country.
Varun's photographic journey has not been limited to just fashion and advertising; his photographs have also graced the front pages of leading newspapers such as Times of India, Hindustan Times, and many others. His work has been prominently displayed on numerous large hoardings and billboards across the country, cementing his status as one of India's most sought-after photographers in the fashion and advertising industry.
With an unwavering focus on pushing the boundaries of his craft, Varun's achievements in photography and film direction have made him a highly sought-after professional in the advertising industry. His impressive portfolio and his ability to consistently deliver outstanding works have made him an invaluable asset to his clients, and his contributions to the advertising industry will undoubtedly leave a lasting legacy.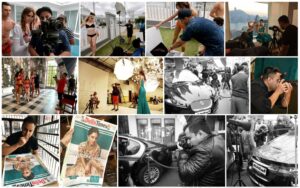 In 2009, Varun began his career as a freelance photographer, then in 2014 he established Paper Plane Creatives, his own production house. In 2018, he made his debut as an Ad film director for a number of TVCS, and he is continuing to work as a Photographer and Director on various projects.
In 2019, Varun Chauhan was seen on India's first reality cum modeling hunt MTV show – Mr & Miss 7 States, as a celebrity & official fashion photographer where he was seen photographing the contestants while judging for the Mr & Miss Photogenic Title. The show was broadcasted on MTV India & MTV Beats and is currently streaming on MX PLAYER, HUNGAMA PLAY, AIRTEL XSTREAM & Vi MOVIES Tv.
Varun's achievements have not gone unnoticed, and in 2022, he won a nomination in one of the most prestigious Spider Black and White awards in Fashion Category (Professional) in the 17th Annual Spider Black & White awards. This international award honours black and white photography and showcases the best professional and amateur photographers in a prestigious annual competition and globally webcast photo show. The jury members are selected by exclusive invitation to join the international panel and sent ballots to log on, review the entries and nominate their selections.
Varun has had the chance to take both business and pleasure trips to a number of wonderful places throughout the world, including Canada, Dubai, Hong Kong, Kyrgyzstan, and Thailand. His trips have given him the ability to broaden his artistic horizons and find inspiration for his photography, in addition to giving him amazing experiences and memories.
Outside of work, Varun enjoys spending time with his family in Canada and New Delhi, exercising, motorcycling, gaming, reading, and keeping up with the latest technology in photography, gadgets, and technology. With a passion for his craft and a dedication to his art, Varun is one of India's top photographers and directors, and his work has been recognized and celebrated both nationally and internationally.